Hi all
Having recently acquired a Panasonic GM5 camera, I was dissatisfied that the official Panasonic "Image App" cannot transfer raw images to my phone. I would like to do that for example to quickly change a photo from B&W to color, or to brighten a missed exposure, all while on-the-go.
Combined with the fact that the GM5 offers no in-camera raw editing like later cameras, this meant no flexible image editing after the image was shot! Or I would need to have with me yet another piece of hardware like a SD card dongle...
This is not the first time someone has run into this problem. By googling, one can find threads on DPReview, Flickr, and even our own forum:
https://www.mu-43.com/threads/can-not-transfer-raw-file-through-panasonic-imaging-app.78614/
I realized that the GM5 only supports sending raws to a PC, as their own manual clearly shows in a table:
Then, I figured out that Panasonic cameras connect to PCs via the SMB protocol, which originates from Microsoft but has compatible implementations for Mac OS, Linux, and smartphones as the "Samba" protocol. Because such software exists for all platforms, I was wondering if we could trick the camera into thinking my smartphone is really a PC file server, and thus sending the raws. After many failed attempts with different apps, and a lot of head shaking at Panasonic's clumsy networking implementation, I got it working! This is a guide sharing the steps to achieve that. I personally have an Android phone, but hopefully, a similar procedure should work for iOS.
Part 1: Server setup on Android
We will need two installations: Servers Ultimate, and Servers Ultimate Pack B, which contains the Samba server.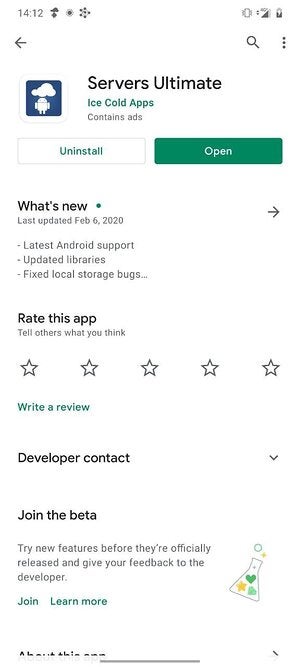 Opening the Servers Ultimate app, you'll want to set up a new "SMB Native Server". The regular "SMB Server" does not work. Go to "Servers", then click on the plus "+" to add a new server and choose the correct type.
In the "General" tab, you'll want to disable "Use root for internal port forwarding".
In the "Specific" tab, make note of the "Netbios Name", as we will enter it later on the Panasonic camera when connecting.
In my case, it is "HD1903". It is recommended to change this to a short and easy name to save time typing it in in the camera.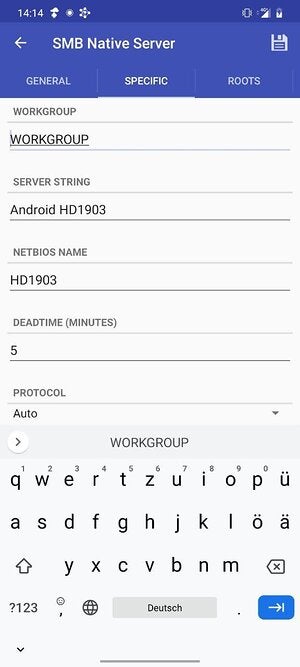 In the "Roots" tab, create the directory where the camera should save the downloaded images. Again, click on the plus "+" to do so. Enter any name. Browse for the directory on your phone, creating a new one if desired.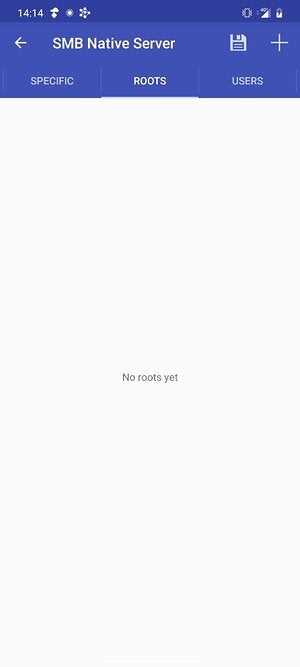 In the "Users" tab, make sure to add an user (you guessed it, with the plus "+"). Panasonic cameras do not seem to support guest or unauthorized access for some reason.
I created a very simple user here, username "pana", password "pana". Again, the easier your naming choice, the more time you'll save later on the camera side.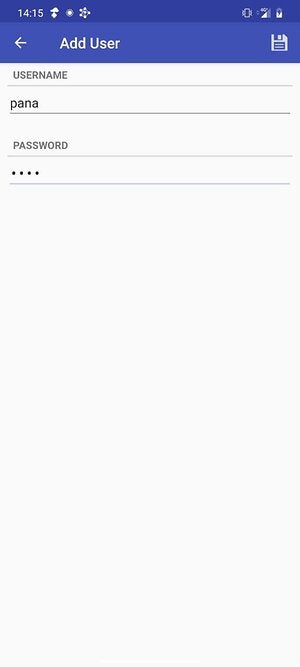 Click on the floppy disk icon a couple of times to save everything and go back to the servers overview. You should see your server similar to here, not started yet: