Hello,
When I connect my E-M5 Mark III to the PC USB a menu is displayed on the camera with 4 lines :
Storage
MTP
PCM Recorder
Exit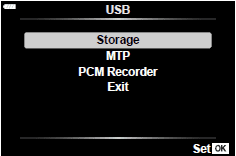 The manual explains only the first, to copy pictures.
The last is self explanatory (when selected it ask to remove the USB cable).
But what is the use of "MTP" and "PCM Recorder" ?
I looked on the web without any success.
Thanks for any insight.